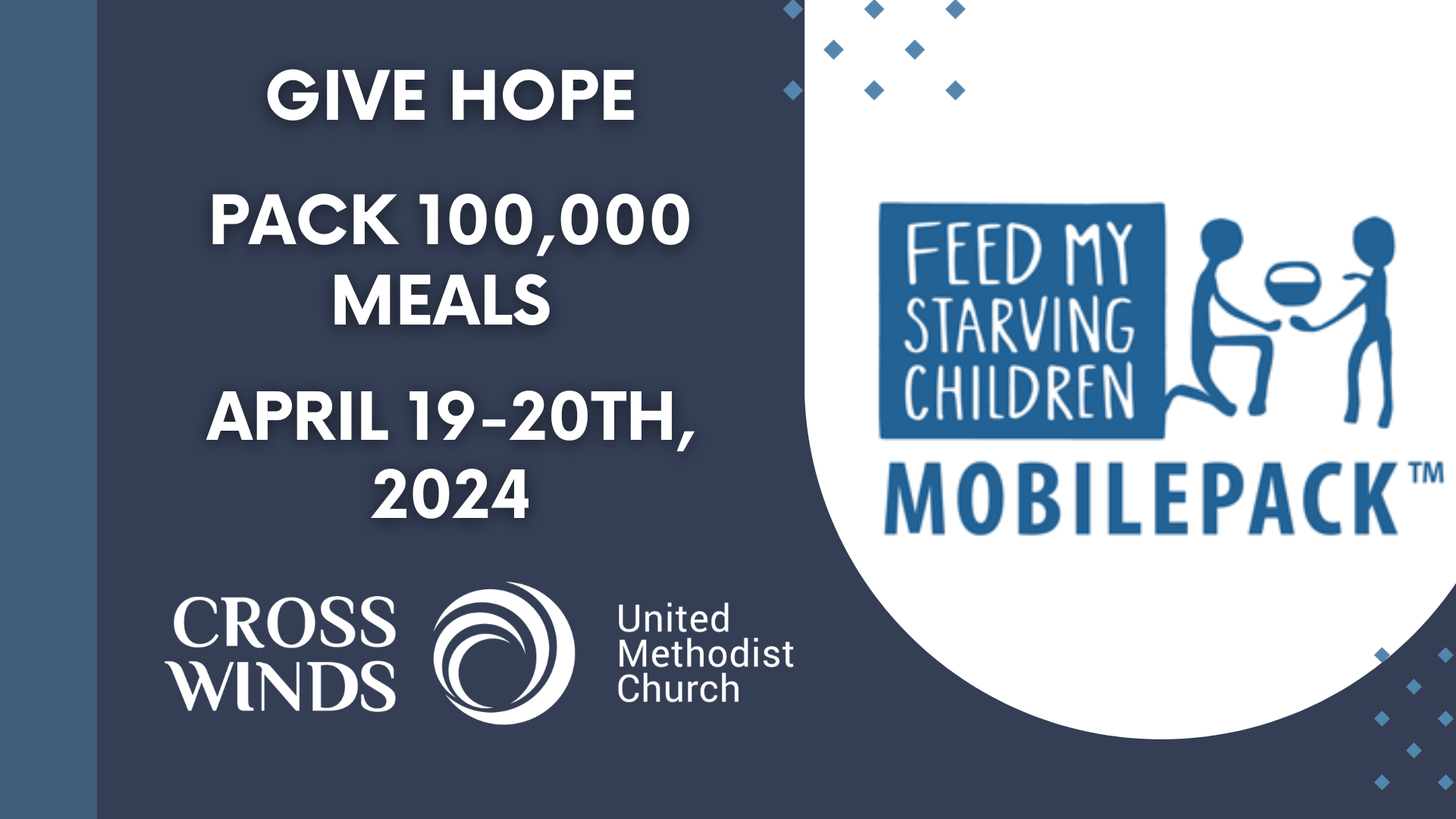 Feed My Starving Children Mobile Pack
11.06.23

|

Articles, FMSC

| by

Stina Koppes
Feed My Starving Children Mobile Pack Event
April 19-20th, 2024
Every year millions of children die from preventable causes such as pneumonia, diarrhea, malaria, and under-nutrition. Today, hunger still causes nearly half of deaths in children under 5 years old. This is heartbreaking. But you can make a difference!
Through a Feed My Starving Children (FMSC) MobilePack™ event at Cross Winds UMC on April 19-20th, 2024, our community is responding to the cries of those in need by producing over 100,000 nutritious meals for kids around the world.
To help us meet our $30,000 fundraising goal, we are raising money throughout the coming months for our FMSC Mobile Pack event.
About Feed My Starving Children
Feeding kids. Feeding spirits. Empowering communities.
Feed My Starving Children (FMSC) believes hope starts with food. As a Christian nonprofit, FMSC is dedicated to seeing every child whole in body and spirit. FMSC meals are packed primarily by volunteers, then sent to a network of partner organizations that stay with communities for the long haul, empowering them to move from relief to development. FMSC MarketPlace™ supports local artisans, paying a fair wage for handcrafted goods and using the retail profits to fund more meals for kids around the world. Since our founding in 1987, FMSC has shipped over 3 billion meals to more than 100 countries. Learn more at fmsc.org.
About FMSC MobilePack™ events
Volunteers just like you join hands with neighbors across the U.S. to pack and fund lifesaving FMSC MannaPack® meals through FMSC MobilePack events. Churches, businesses, community groups and schools host these food packing events and make a real difference in the fight against world hunger.
Funding the MobilePack
When you fund daily MannaPack® meals for hungry children around the world, you will help ensure they have the nutrients needed to fight malnutrition. One life-changing meal costs 29 cents. That's just $106 to feed one child a daily meal for an entire year!
$53 feeds six children for a month
$79.50 feeds nine children for a month
$106 feeds one child for a year
Our goal is to provide over 100,000 meals for kids in need, which puts our total fundraising goal at $30,000. Help bring hope by giving towards this April event.
Did you know your company can double or triple your giving to FMSC? Check https://www.fmsc.org/ways-to-give/matching-gifts to see if your employer will match your donation to FMSC or pay for the meals you packed through a volunteer grant.