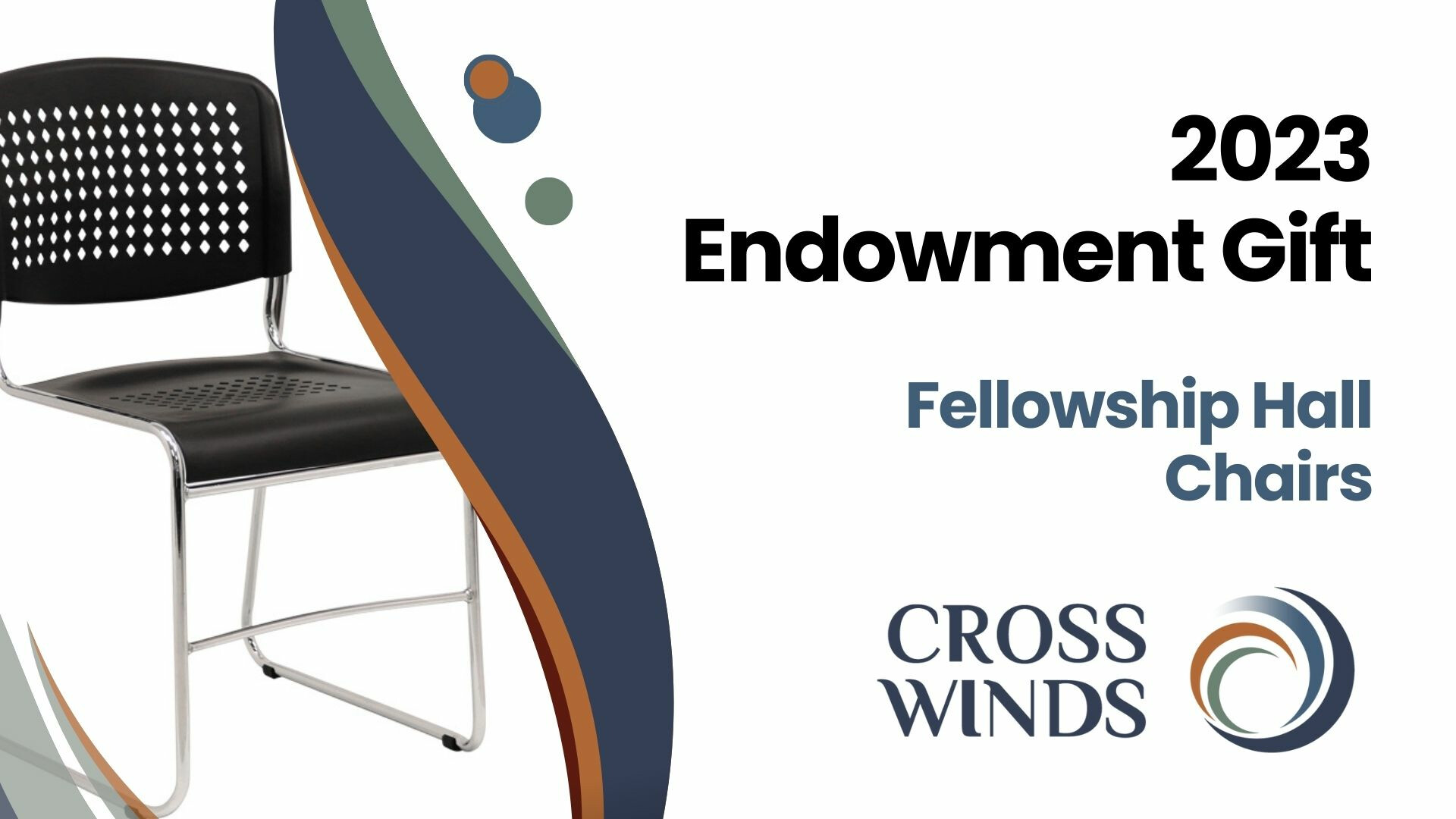 Endowment Gift - Fellowship Hall Chairs
11.13.23

|

Articles, Finance

| by

Stina Koppes
2023 Endowment Gift – Fellowship Hall Chairs
The Endowment Committee is pleased to present the 2023 endowment gift towards the purchase of new fellowship hall chairs which will arrive in November 2023.
How does the Endowment Fund work?
The Endowment Ministry Fund provides a way for members and friends of Cross Winds to leave a legacy that will live on past their lifetimes. Through this Fund, the Church is able to carry on God's work, reaching beyond the limitations of the annual budget. The Endowment Ministry Fund is a permanently restricted, self-sustaining source of funding. Earnings are paid out annually according to the church's wishes. Donations such as cash, checks, or stock options and other types of gifts may be given. An endowment fund pools contributions from its donors and invests those contributions so that they will grow. The portfolio is managed professionally, and then a portion of the investment fund is withdrawn each year and used for purposes designated by the church. As such, donations made today are truly lasting gifts, which will continue to support our church for many years into the future.
Why Were Chairs Selected?
The fellowship hall chairs were selected as the 2023 gift recipient by the committee because it was recognized as a project that would benefit the greater community and continue our efforts towards welcoming all into our facility.
The chair selection process was overseen by the trustees and a task force group selected by the trustee committee. The Task Force members included Brenda Machacek (Trustee member), Jeanine Ronning (Board Member and Hospitality tri-chair), and Michelle Schober (Staff representative). This subcommittee reviewed several chairs, sought significant congregational input, and took many variables into account. The chair selected is a Bertolini Super Stacker chair. It was chosen because it was easy to move, easy to store, easy to clean, and reasonably priced.
We are grateful for the work of our endowment committee, trustees, chair task force, and entire congregation for their efforts.
Previous Endowment Gift Recipients
2022 – Sanctuary Sound Board
In 2022 the first endowment gift was given towards a new sound board for the sanctuary, which provided necessary upgrades for our sound equipment in the sanctuary. Having a digital sound board has been well appreciated, not only for in-house sound management, but also for recording purposes as we live-stream weekly worship and special services.
Future Endowment Gifts
Beginning in the winter, the endowment committee, in consultation with the trustees and the board, will review potential projects for a 2024 endowment gift award. If you have questions about the process, be sure to speak with a committee member.
Endowment Committee Members
Jon McWilliams (Committee Chair), Jeff Drayton, Louise Fuller, Jeanne Carlberg, Becky Real (Board Chair), Don Bushen (Finance Chair), Paul Crosland (Trustees Chair), and Stina Koppes (Pastor).
To learn more about the endowment, speak with a committee member or visit: https://crosswindslife.org/give/endowment/