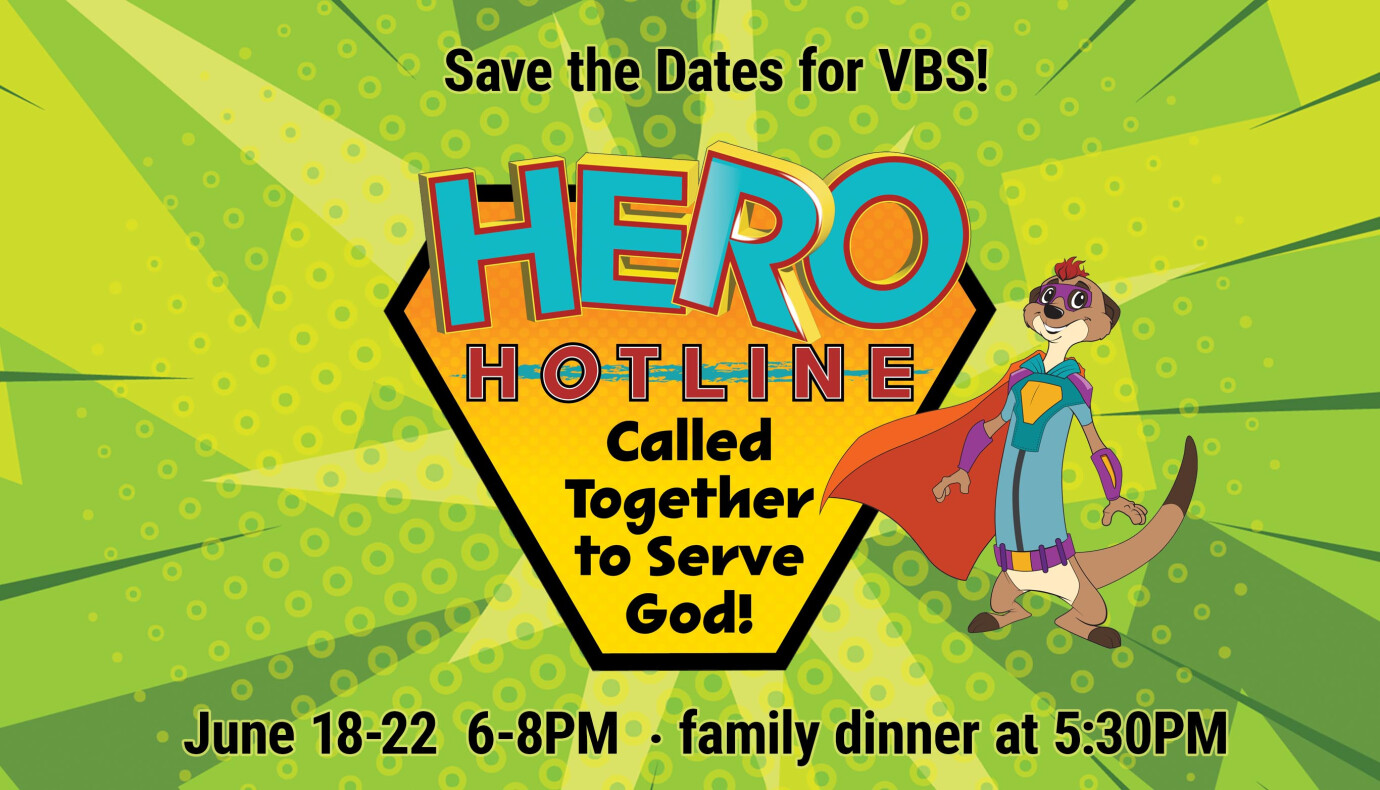 June 18, 2023 6:00 pm
June 18, 2023
Cost: Registration Cost: $25.00, Cost per family member for 5 meals: $20.00
Contact:
June 18-22, 6:00-8:00 pm; Family Dinner at 5:30 pm
At Hero Hotline VBS, children in preschool through 5th grade will enjoy an interactive, energizing, Bible-based good time as they are called together to serve God. They will become Heroes and discover that answering God's call together means striving for the things that bring peace and the things that build each other up! After a high-energy Opening Assembly time, the Heroes will be introduced to their daily Bible story. These interactive Bible lessons reveal Hotline Tips to equip your Heroes for an active life with God. Your Heroes will also discover our Hotline Verse (Bible scripture), which will remain with them in their faith long after VBS. The students will expand on what they've discovered by making their own art projects at the Craft Station, singing new songs at the Worship Station, exploring the wonders of God's creation at the Science Station and playing games at the Recreation Station.
To ensure we have the energy and endurance for all that fun, we'll begin each evening with a family dinner. Dinner will be served each evening from 5:15-5:55 and include options to please every Hero! Meals for the week cost $20 per guest. Dietary restrictions should be shared on the VBS registration form. We will wrap up with prayer and transition to the sanctuary for a prompt 6pm Opening Assembly.
Menu for the week:
Sunday: Deli sandwich and potato chips

Monday: Pancakes, sausage, and fruit

Tuesday: Taco Tuesday

Wednesday: Spaghetti, salad, and bread

Thursday: Pizza
Join us as we answer God's call together, to serve, bring peace, and build each other up!